Say it with…Lime, Mango and Orange
Welcome to this week's colour challenge at AnnaBelle Stamps. They are such bright, happy and summery colours don't you think? Quite fitting for the warm breezy spring days that we have been having lately.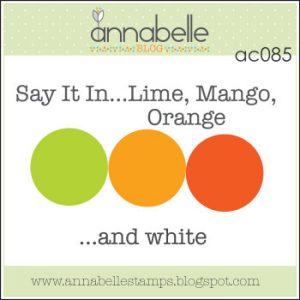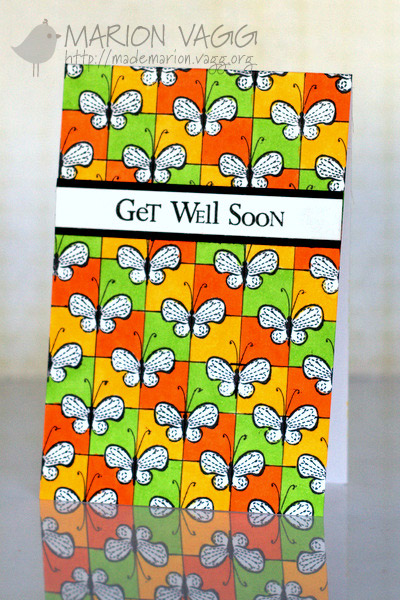 I made this mini card (7.5cm by 11cm) by first drawing a grid with lead pencil. I then stamped the small butterfly image from the Whimsy Flowers set repeatedly using the grid as a guide. When all the butterflies were stamped I coloured in the negative space around the images with 3 shades of Copic markers. I finished off the card by going over the grid lines with a felt pen and ruler. The result was a rather colourful and graphic looking pattern.
I have created this card for the Repetition Challenge in the Moxie Fab World.
This week's winner will receive a $10 Gift Voucher to the AnnaBelle Store. Hope you will find the time to play along. Be sure to check out the rest of the Belles projects – their links are on my sidebar.
Thanks for stopping by,

About our challenges:
– We post our challenges every Friday at 12:00pm AEST (AEDT during Daylight Savings).
– Each challenge runs for a week, and will close on the Friday 10.00am so that we can announce and showcase our weekly winners prior to the next challenge.
– Each weeks winner will receive our special blinkie to display on their blog and a $10.00 Gift Voucher to spend in store at AnnaBelle Stamps (or something equivalent).
How To Play Along:
– Copy and save our challenge banner and include it and a link back to the ABS blog in your post.
– For those without a blog you can still play along! Simply uplaod your card to out
Stamp Embellish Create
social site (you'll need to join) and add the current challenge 'tag' to your photo!
– Please link directly to your entry not just to your blog.
– Please don't link to postings made prior to the date of our current challenge. All projects submitted must be new.
– A maximum of 7 challenges may be combined including this one.
– You may enter any of our challenges several times as long as each submission is with a new creation.
– We would love you to use AnnaBelle Stamps and embellishments, but you can play along without using them, it's all about sharing ideas 🙂